The Jose Carabajal Violin
The New World Baroque Orchestra
---
Physically and culturally there was a very close relationship between Mission San Miguel Arcangel and Mission San Antonio de Padua. Mission San Antonio was particularly noted for its fine orchestra of Native American Salinan musicians which contemporaneous accounts tell us performed many times at Mission San Miguel.
---
Jose Carabajal was the son of a mission Native American of the Salinan Nation and her Spanish husband, who came to Mission Carmel in 1798. Jose developed a rare musical ability from the training and support he received from his parents and his Padre teachers.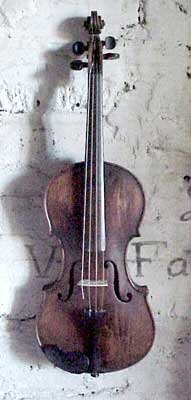 According to the story handed down over generations by his family, young Jose eagerly wanted to learn to play a particular violin belonging to the Mission instrument collection. Because he was unable to use that violin, he copied its dimensions and made a fine instrument of his own, using all local native California woods. Due to its unique construction without the use of modern tools and employing unusual cuts of wood and wood grain patterns, this hand-made instrument is one of the most unusual violins ever made - very unlike the standard European models used at that time (and up to this very day.) The violin was played by Jose Carabajal in the original orchestra of Mission San Antonio, formed around 1803 and directed by Mission Pastor Frey Juan Bautista Sancho, O.F.M. (Order of Friars Minor). Father Sancho, himself a well educated and talented musician (harpsichordist, organist) and composer, was well loved and appreciated by the Native Mission musicians.
Handed down and played by family members throughout the years, this instrument was treasured for both its legacy as well as its singularly beautiful tone. It remained in the Carabajal family until 1973 when it was donated by Jose Carabajal's great-great grandson, Mr.Leonard Lane, Sr. of Ventura, California, and returned to Mission San Antonio where it remains today, a great treasure in the Mission's museum collection.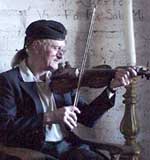 Mr. John Warren, director of the New World Baroque Orchestra, recently contacted Mr. Lane's son, Leonard Lane, Jr. of Ventura who was very pleased to hear that this beautiful violin is restored and its voice is heard once again, appreciated and enjoyed by concert-goers young and old alike. It is a living tribute to Jose Carabajal, to the dedicated Mission Padres who taught him and to the talented Native American musicians who created the beautiful music of the Missions so many years ago.
For more information on New World Colonial and Early California Mission Music, and the Salinan Nation, please visit the New World Baroque Orchestra Web site.